ARABELLA
Arabella is New York Harbor's newest mega yacht.She has three masts and is 150-feet of style and glamour.Arabella is berthed at Dennis Conner's North Covein front of the World Financial Centerin Battery Park City, Lower Manhattan.Arabella is available for distinguishedcorporate and private charters.You can host a super memorable event onboard Arabellawhile at dock or while cruising around the harbor The main salon is a large andcomfortable space with a varnishedmahogany bar at one end. Arabellafeatures timeless yachting décorthroughout her spaces.The main salon is set with 6 tables whichseat 6 people each. Two additionaltables can be set up in the center of theroom. This is an excellent space for alunch meeting or seminar at dock.
- Normal charters: 30-100 passengers
- Arabella is also available to travel to off-site events. She offers overnight accommodations for 40 guests in 20 cabins. In winter, Arabella is available for charter in the Caribbean.
Atlantis
Top Deck Ceremony
Dining Salon
Dining Salon
Top Deck
ATLANTICA
Magnificent 3-deck yacht: 2 enclosed decks with outside walk space and an ultra-large open top deck ideal for wedding ceremonies. Second deck salon is tastefully appointed with leather sofas and classic arm chairs. State of the art rest rooms wrap around bar mirrors. Beautiful bridal suite and center staircase with wooden banisters make it the perfect wedding yacht. Can accommodate up to 230 guests in the main dining room with a dance floor and sit-down-dinner service (up to 280 guests can be seated with dance floor on 2nd deck). Perfect site for cocktail parties for over 300 guests. Unique panorama style windows are the talk of the town Fine food and attentive staff. Often imitated but never duplicated.
Photo credits for the main salon of The Atlantica are owed to Milton Gill Photographers
Bateaux
ATLANTIS
Luxury 3-deck yacht with seating for up to 200 +guests. Cocktail style parties can accommodate 250+ Ceilings over 8 feet high enhance the elegant architectural design; custom railings, grand staircase, raised platform dais, custom-designed fish aquarium, 3 plasma presentation screens, private bridal suite, rest rooms on two decks for guests' convenience, LED lighting, state of the art sound system, fountain uptop, fine service and wonderful cuisine. A CLASS ACT!!! The Atlantis Yacht's hull was designed with both aesthetics and functionality in mind, so that your guests are comfortable during your yacht charter in NYC. The yacht's steel hull was constructed to maintain a stable environment aboard the yacht, while sustaining the yacht's efficiency. The Atlantis Charter Yacht was built using a combination of a steel hull and aluminum super structure to create a low center of gravity. This combination can counteract the turbulence created from external forces. The speed of the vessel is also a very important factor. When moving at a higher rate of speed, the Atlantis creates more surface tension between the hull and water's surface. This contributes to the overall stability while cruising aboard the yacht.
BATEAUX
A very sleek and modern glass-enclosed atrium yacht designed for optimal comfort and flexibility, providing stunning views separated only by glass windows to leave a lasting impression.
Amenities include:
- Climate-controlled comfort enhanced by a ceiling shading system
- Spacious hardwood dance floor
- Revolutionary deck layout gives every table a view of the entertainment
- Uniquely designed seating arrangements
- State-of-the-art sound systemTwo outdoor strolling decks
Cornucopia Destiny
Dining Room
Cornucopia Princess
Main Dining Salon
Main Dining Salon II
Main Dining Salon III
Main Staircase
CORNUCOPIA DESTINY
Cornucopia Destiny is a four-deck, recently renovated yacht whose homeport is in Hoboken, New Jersey. The Cornucopia Destiny is perfect for groups of 100 to over 300 depending upon the type of event. For sit-down dinners—approximately 180 guests in the main dining salon For cocktail parties- up to 350 guests! The cocktail lounge on the first deck is elegant, the dining salon on the second deck--just lovely, the third deck offers guests a taste of the outdoors with roll-down clear shades and fixed canopy in case of rainy weather and the top, open observation deck is just awesome. Bars on every deck!
CORNUCOPIA PRINCESS
This 130 foot mega yacht can accommodate up to 400 guests on its combined decks. It is a mulit-tiered vessel with a dramatic staircase and fine appointments. It has a large dance floor and is perfect for weddings, corporate events, Mitzvahs and more!
HYBRID
The 168 ft.Hybrid is New York's newest and flashiest venue on the water featuring breakthrough green technology. The Hybrid features 3 air-conditioned or heated decks as well as an observation deck.
Buffet Capacity • 350 guests Sit-down
Dinner capacity • 400 guests
Cocktail capacity • 600 guests
Available for full-ship private charter or deck charter. Highly recommended for weddings on the water!
SENSATION
THE SENSATION is one of the Hornblower's impressive fleet. There are three large decks- two enclosed dining salons that can seat 150 guests each and a huge top deck.There are state of the art bars on all three decks and LED lighting throughout. Sensation is perfect for large corporate gatherings and many types of social events for private charter. Sensation is also available for a PRIVATE DECK charter. The vessel has recently been renovated and has WOW! appeal. FOOD AND SERVICE- very good!
THE SPIRIT OF NJ
The New Jersey Yacht Charter, Spirit of NJ, is a 175 ft private yacht charter that can accommodate up to 600 guests. Its recent renovation makes it so very attractive. The Led lighting adds flair and enhances the ambiance. Available for full ship or private deck charter. Excellent packages available for Project Graduations!
JJ AUDUBON
2 climate controlled decks, built in sound system, observation deck,custom LED Lighting,Vetrazzo countertops made from recycled glass.
FULL SHIP CAPACITY
Buffet • 210, Sit-down • 280, Cocktail • 350
FIRST DECK
Cocktail • 200, Seated • 150, Buffet • 125
Audubon is perfect for large high school and college events, Sweet Sixteens, Bar/Bat Mitzvahs, corporate events. Her homeport is at Pier 40 at West Houston Street and the West Side Highway
Serenity (The Respect)
Main Dining Salon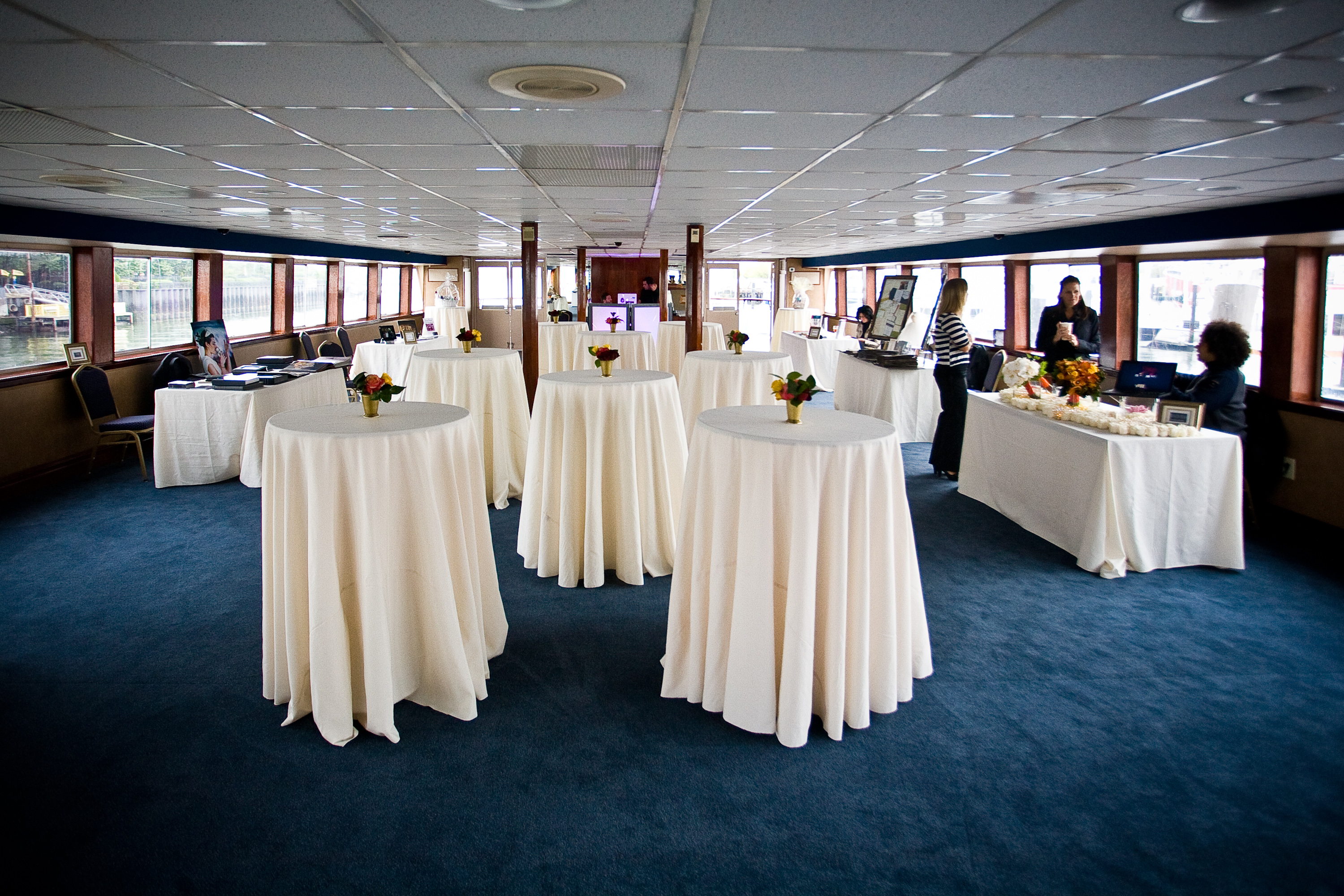 Cocktail Deck
SERENITY (THE RESPECT)
A sleek modern yacht with plenty of room for entertaining and fine dining. The Serenity is capable of hosting a range of events, from classic weddings to corporate fundraisers.
Capacity: 350
Spirit of NY
THE SPIRIT OF NY
The newly renovated Spirit of New York, has three interior decks and a lovely outdoor observation deck. It is available for full ship or private deck charter,. The entire ship can accommodate up to 600 passengers. Service is excellent!